Power Racks Basics
A power rack, also known as a power cage, is a piece of weightlifting equipment that helps you safely perform exercises such as the squat, bench press, shoulder press, and pull-ups.
It consists of four upright posts with horizontal cross members at the top and bottom to solidify the structure. The uprights are offered in a range of heights to fit any ceiling measurement.
Rack attachments are additional components that can be added to a power rack to increase its functionality and versatility. These accessories help users customize their workout experience to meet specific fitness goals.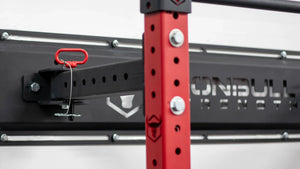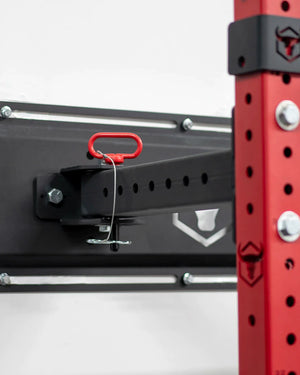 There are three main types of power racks: floor mounted, freestanding, and wall mounted.
Floor Mounted
Floor-mounted power racks are engineered for intensive, heavy-duty use, and they require anchoring to the floor for stability and safety. They are particularly suitable for homes with concrete floors, such as basements, where bolting equipment securely is feasible.
Compared to freestanding racks, floor-mounted power racks offer an extra layer of security. The bolted design prevents the rack from tipping or moving, even under heavy loads or during vigorous exercise.
This ensures the rack stays firmly in place, providing users with a more stable and secure platform for their workouts.
Freestanding
Freestanding power racks offer a combination of convenience, safety, and flexibility. They are relatively simple to assemble and do not require any permanent installation, making them an excellent choice for spaces where drilling into the floor or walls isn't an option.
Despite their ease of setup, freestanding power racks do not compromise on safety. They are designed to provide a high level of security, featuring sturdy frames and safety catches to prevent accidents during heavy lifting.
Furthermore, the non-permanent nature of freestanding power racks provides flexibility. You can move the rack around your space as needed, making it ideal for multipurpose rooms or gyms that frequently change their layout.
Wall mounted
On the other hand, wall-mounted power racks require much less room in your living space but a safe and reliable installation to the wall is required. There are 2 kinds available.
Foldable which is a very convenient space-saving option, and fixed wall-mounted racks. While it is a bit more work, wall-mounted power racks are the most secure, compact, and cheapest option of power racks.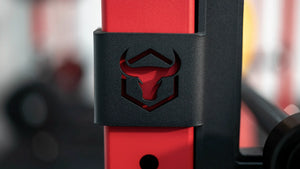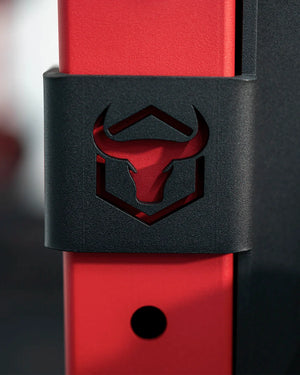 How to Choose the Best Power Rack
When choosing a power rack, there are a few things you should keep in mind.
Space
Firstly, assess the amount of space you have at your disposal. If your home gym is on the smaller side, a wall-mounted power rack that doesn't take up too much room would be an ideal choice.
If on the other hand, you're in a rental property and do not anticipate staying there for an extended period, a freestanding power rack may be the best option so you don't have to drill holes into the wall or floor.
Conversely, if you are a homeowner with ample gym space, you might prefer to invest in a floor-mounted power rack.
Budget
The cost of power racks can vary significantly, with prices ranging from several hundred to several thousand dollars. It's crucial to select a rack that aligns with your budget while also being well-suited to your dedicated workout area.
Although superior quality typically comes with a higher price tag, it doesn't mean you need to break the bank. We provide a variety of options that strike a balance between high quality and affordability, designed to cater to your specific budgetary needs.
Durability
If your plan is to use your power rack for many years, it's essential to prioritize durability in your selection. Our power racks are designed with this in mind, and we use only the most robust materials to ensure long-lasting performance.
Each of our power racks is constructed with 3x3" 11-gauge steel, a material known for its exceptional strength and durability. This ensures that the rack can withstand heavy loads and prolonged use, making it a reliable piece of equipment for your strength training exercises.
Finally, all of our power racks feature surfaces that are powder-coated. This finishing process provides a highly durable, corrosion-resistant finish that can handle the rigors of heavy use. It protects the steel from environmental factors such as moisture, which can cause rust, as well as from the scratches and scuffs that can occur during regular workouts.
Aesthetics
Another factor worth considering when choosing a power rack is its aesthetic appeal. If the rack is going to serve as a central feature in your home gym, it's important to select one that complements the visual style of your space and aligns with your personal taste.
You would want a power rack that not only performs well but also enhances the overall look of your gym. A visually pleasing power rack can contribute to a more motivating and enjoyable workout environment. Therefore, consider factors such as the color, design, and finish of the power rack. Ensure it harmonizes with your other gym equipment and the general decor of your space.
Customization
Purchasing a power rack can be an exciting process, especially when you have the opportunity to tailor it to your specific preferences and requirements. Iron Bull Strength enhances this experience by offering a unique power rack builder tool.
With our power rack builder, you can fully customize your rack to match your exact needs and personal style. This tool offers a level of flexibility and personalization that goes beyond choosing a standard, pre-made model. You can select from a range of options for various components, including the material, color, size, and additional features or accessories.
This level of customization not only ensures that your power rack fits perfectly into your home gym setup but also allows you to create a piece of equipment that is truly unique to you. Whether you're prioritizing functionality, aesthetic appeal, or a combination of both, our power rack builder gives you the freedom to design a power rack that is tailored to your vision.
Rack Attachments
Some power racks come with add-ons and customization options, such as weight storage or pull-up bars. If you think you might want to use these features, then look for a power rack that allows you to include them. 
Are you okay with the essentials? Or would you like the option to do pull-ups, have spotter arms, install a cable pulley, etc.? 
Do you want your power rack to be just a squat rack? Or would you like it to be more like a functional trainer? 
When choosing a power rack, be sure to ask yourself how important the bells and whistles are going to be for your fitness journey.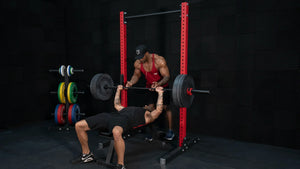 What to Look for When Buying a Power Rack
Here are key elements to take into consideration when shopping for a power rack
Stability
Undoubtedly, the key attribute to seek in a power rack is stability. Considering that it will be supporting substantial weight, often positioned above your shoulders, the rack needs to robustly endure heavy-duty use. The stability of a power rack is influenced by several factors including the size of the base, the dimensions of the uprights, and the rack's own weight.
A power rack built with 11-gauge 3 x 3" steel will inherently be heavier and more stable than one constructed with a 14-gauge 2 x 2" framework. The thickness and dimensions of the steel directly impact the strength and stability of the structure, enabling it to safely bear high weight loads.
The size of the base is another crucial determinant of stability. A larger base provides a broader foundation, enhancing the rack's balance and resistance to tipping. Additionally, whether the rack will be anchored to the wall or floor significantly contributes to its stability. Whenever feasible, it's advisable to securely bolt the rack to the floor. This bolting not only boosts the overall stability of the power rack but also adds an extra layer of safety during your workouts.
Versatility
Another important thing to look for is versatility. As mentioned above, think about what you want your power rack to be able to do for you.
If you want a rack for the big three exercises – squats, deadlifts, and presses, then opt for one with less versatility. But if you want to be able to use the rack for other exercises, such as pull-ups or dips, then look for a rack that includes these features, or can welcome additional rack attachments.
Size of Uprights
If there was one part of a power rack considered the most important, it's the uprights. 
Uprights are vertical bars that hold the J-hooks, spotter arms, and pull-up bars. The upright is where you're going to load most of your weight, so it needs to be strong and stable.
The size of the uprights will depend on the height of the ceiling where you intend to workout, and how much weight you intend to put on the rack. 
You want to make sure everything is stable and secure so there isn't a chance of failure.
Usually, 14-gauge 2 x 2" steel uprights will handle enough weight, up to 600 lb. The uprights are a little smaller but still strong enough to handle good weight. If you're planning on going over 600 lb, then we recommend the 11-gauge 3 x 3" uprights. This is the ultimate size for maximum strength and durability.
Coating
To extend the lifespan of your power rack and safeguard it from the inevitable knocks and scratches that will occur during workouts, it's crucial to consider its protective measures.
Apart from investing in rubber-coated weight plates, one effective way to ensure the longevity of your power rack is to opt for one with a robust protective coating.
All our power racks come with a powder-coated finish. This type of finish is not only available in a diverse range of colors to suit your aesthetic preferences but also provides crucial protection for the rack. It shields the metal from damage, rust, and corrosion, thereby preserving the rack's structural integrity and appearance over time.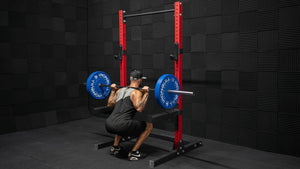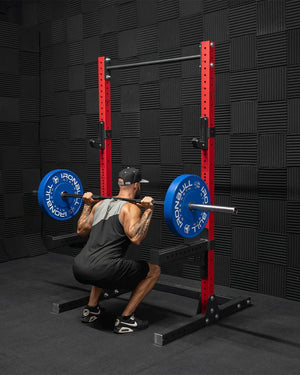 If you ever wanted to feel like you had the gym come to your home, the power rack will definitely give you that vibe
Convenient
Power racks are a convenient way to train at home, especially if you plan to convert your power rack into more of an all-in-one gym with a pull-up bar and other accessories. 
All-in-all, power racks can be used for the staple exercises you need to do to get fit. Squats, deadlifts, and bench presses.
Customizable
The days of single-model, single-color power racks are long gone. Not only do you have plenty of options for height, durability, and material, but you can also customize your power rack to match your gym. Add your personality to your power rack!
Cheaper in the Long Run
If you're serious about weightlifting, a power rack is an investment that ends of putting money back in your pocket.  
The average gym membership is over $50. If you drop the gym membership and buy a power rack for your home gym, it will pay for itself within two-to-three years. After that, you're saving money!
It's also much cheaper than buying separate pieces of equipment over time. This is a one-time purchase that will be around for many years.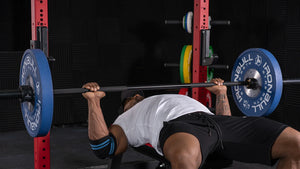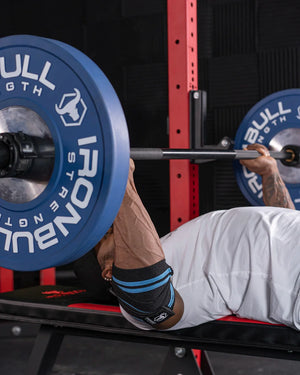 Why Purchase Our Power Racks?
If you're looking for a quality power rack for your home gym, then you don't need to look any further.
Quality
By choosing our power rack, you're investing in a piece of gym equipment that's not just robust and durable, but also extremely versatile.
Regardless of your fitness level or strength training goals, our power rack is designed to support your progress and push your limits safely and efficiently.
Warranty
We provide an extensive warranty on all our power racks, ensuring that you can engage in your strength training with peace of mind. This warranty is our commitment to you, reflecting our confidence in the quality and durability of our products.
This generous warranty not only offers protection against potential defects in material or workmanship, but also serves as an assurance of our dedication to customer satisfaction.
We want you to feel completely confident in your purchase, knowing that we stand behind our products and will address any concerns you might have.
Versatility
Our power racks are versatile and can be customized with a variety of accessories including spotter arms, gymnastic rings, and many more. Check out our entire collection!
Financing
We understand that while fitness is a priority, maintaining a budget is equally important. We believe that financial constraints shouldn't hinder your path to achieving your fitness goals. Therefore, we have implemented financing options for our power racks to make them more affordable.
Our financing options allow you to split the total cost into manageable monthly payments, rather than requiring a significant one-time expenditure. This way, you can integrate the cost of your power rack into your regular budget, reducing the immediate financial impact.
Our aim is to make high-quality fitness equipment accessible and affordable for everyone. By offering these financing options, we hope to alleviate any financial stress associated with your fitness journey. Now, you can focus on reaching your fitness goals, knowing that we've got a plan in place to suit your budget.
So go ahead and invest in your health and wellbeing with our power rack, secure in the knowledge that we've made it financially easier for you.